Voice from Riebeek West
Voice from Riebeek West
Published January 25, 2011 at 12:33 pm
No Comments
Food and wine
We took my mom (up from PE) to Auntie Pasti for their set Christmas Eve menu.  It was delicious & is as follows:
Aubergine & Tomato Tart with sweet Basil froth
Prawn & Avo cocktail with smoked Paprika Mayo
Slow roasted Lamb shank in Shiraz, Tomato, Olive, Garlic & Rosemary served with creamy Potato & Parmesan bake and roasted field Vegetables.
Dark Chocolate & Cherry Cheese Cake
Guests of ours also went to Auntie Pasti for their New Years Eve & their 5th wedding anniversary meal.  They raved about the food, saying it was one of the nicest set menus they have had, as each and every course was delicious.
Café Felix has replaced their Wednesday night curry special (it's too darn hot!) with a discount of 20% on all meals.
On Tuesdays, The Royal Hotel has special prices and 6 Degrees offers 2 pizzas for R80.
What has been happening at De Langenhof Guesthouse?
December was much busier than expected and started getting hot, so guests enjoyed reading and snoozing at the pool; as well as swimming, of course.
We recently put up some lovely solar fairy lights around the pool house and had a professional photographer to take some day and evening photos for us.
What has happened in the Riebeek Valley?
The annual cricket match (on 26 December) between Riebeek West and Riebeek Kasteel was (again!) won by Riebeek West.
Mike & I were invited by Bartholomeus Klip for a game drive and delicious meal.  A compliment from Mike about our game ranger, Halcyone (& he's not a person who gives compliments easily!):  she was very natural; she did not 'recite' her stuff, nor did she treat us a bit like children (some game rangers can talk down to their guests), and she knew what she was talking about & had a good knowledge of birds as well as animals.
We saw the following on our drive; although we didn't see any, African fish eagles can be seen at the damn near the lodge.
Birds:  Black Harrier, Spotted Thick-knee, Yellow-billed Kite, Blue Crane, Secretary bird, Denhams Bustard, Cape Longclaw, Jackal Buzzard, Lesser Kestrel, Black-headed Heron, African Stonechat
Animals:  Bartholomeus Klip is one of the breeding sites for the quagga.  They have other buck and zebra, but no cats.  It still makes for an interesting drive.
What's coming up in the future?
(question marks below are due to lack of definite date, but it gives you an idea of the month)
February 4 – 6:        Riebeek Valley 350 anniversary
March 26 & 27:        MedFest
March 26 & 27:        Portugese festival
May 7 & 8:                  Riebeek Valley Olive festival
August ?:                     PPC Berg Marathon
September ?:             Spring festival and Half Marathon
September ?:             Shiraz & Art festival
December 26:           Cricket – Riebeek Kasteel v Riebeek West
For further details of these and other events please contact the Riebeek Valley tourist office – tourism@riebeekvalley.info or phone 022 448 1584
See also the new updated website:  http://www.riebeekvalley.info/
Within an hour's drive from the valley
The Riebeek Valley is within an hour's drive of beautiful beaches, majestic mountains, world renowned wine routes, the Karoo and Cape Town.  It is the perfect location for a base to explore the diversity of this part of the Western Cape.
Some suggestions of local activities and sights:
BIRDWATCHING at Langebaan Lagoon;
CANOEING Berg River;
LOWERS Darling;
Hopefield in the spring;
GOLF Malmesbury, Moorreesburg & Wellington;
HIKING Die Hel, Groot Winterhoek;
HISTORY WALK Malmesbury;
PARA and HANG GLIDING Porterville;
ROCK CLIMBING Cederberg;
SAILING Voëlvlei;
SCENIC DRIVE Baines Kloof;
SNOW Ceres in winter,
WINDSURFING Saldanha.
Gail, the Inn Keeper's wife
De Langenhof Guesthouse, Riebeek West (only 1 hours drive from Cape Town's city centre!)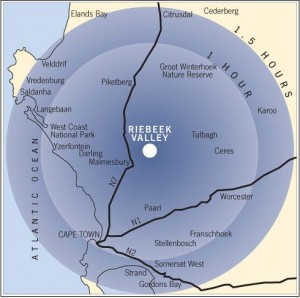 022 461 2188
Please consider the environment before printing
Laugh insanely, Love truly, and Forgive quickly